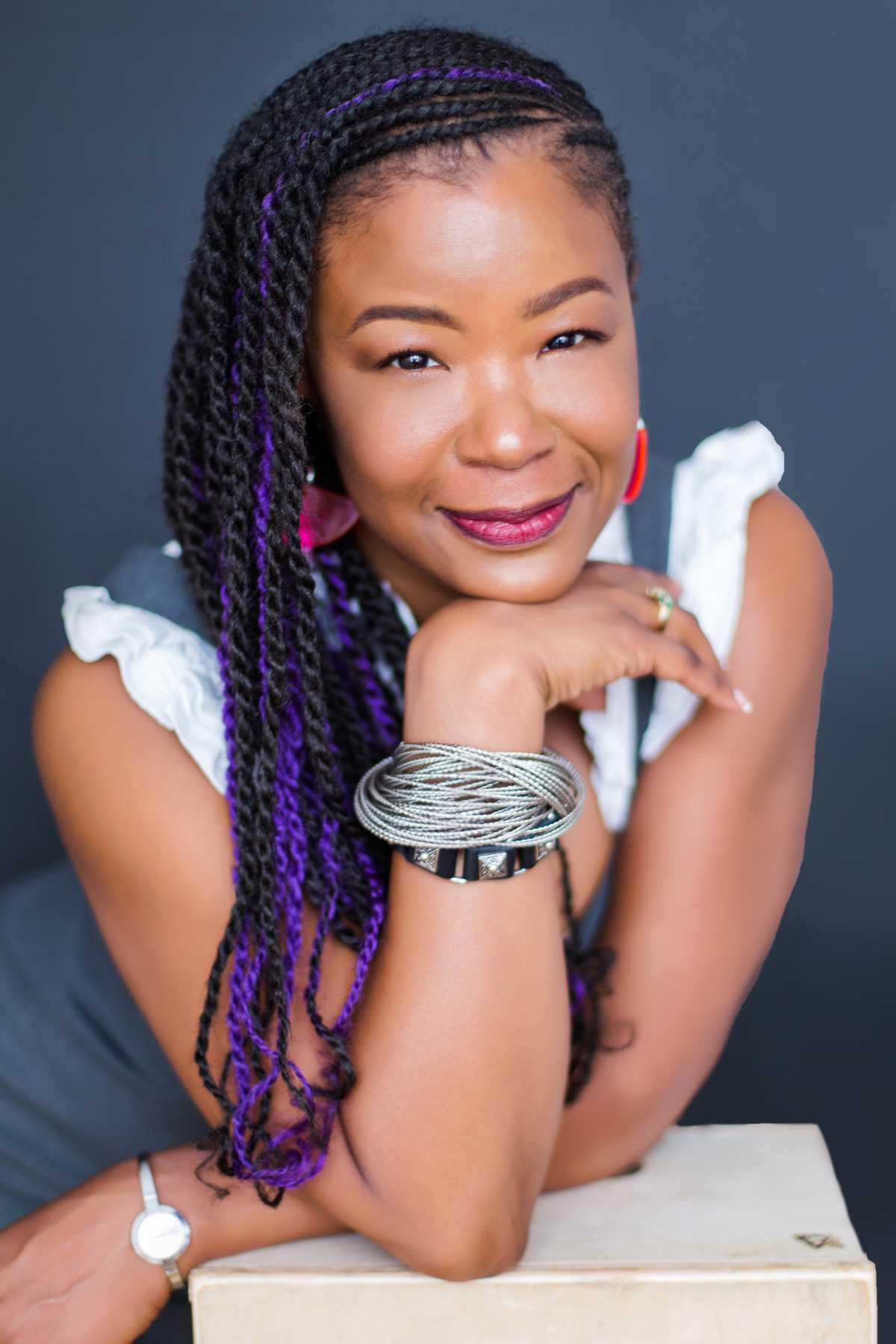 Zawadi Morris is an award-winning journalist and a Chicago native, who has been living in Brooklyn, NY, since the Giuliani era. She is the founder and publisher of
BK Reader
, an online independent digital daily news site covering Central and East Brooklyn.
She also heads up the COVID-19 Writers Project (C19WP), which captures a hyperlocal viewpoint of the coronavirus Pandemic from inside the virus's hotspot—New York City—while examining the extent to which health outcomes are impacted by socio-economics, education, and race.
Pomegranates are one of the few, special fruits that are in season during our fall and winter months. This is a special recipe I made up last year to celebrate both the beauty and amazing flavor of pomegranates, atop a dessert that is beloved-- cheesecake!
IG: Zawadidoll
Ingredients for Cheesecake
Two large pre-made graham cracker crusts
Two 8 oz bars of Kraft cream cheese
Two cans of Carnation condensed milk
1 lemon
1 small egg
1 Tsp of vanilla extract
¼ cup of milk (can be almond milk or a milk substitute)
Ingredients for Pomegranate Topping
2 cups of pomegranate seeds (taken from one large pomegranate)
4 cups of water
2 cups of sugar
4 Tbsp of butter or coconut oil
½ cup of corn starch
Instructions for cheesecake
Preheat oven to 350 degrees.
In a large bowl, blend together until smooth the cream cheese, condensed and regular milk, egg, vanilla extract, and the juice from a lemon (please squeeze this separately to extract the lemon seeds… lemon seeds in your cheesecake will ruin the taste of the entire cheesecake).
Also note: 1 ½ can of condensed milk will make the batter sweet enough. You can add more according to the preferred sweet tooth (usually, I'm happy with 1 ½ but most people are happiest with the two whole cans).
Once the batter is perfectly smooth, pour into the two pie crusts and bake for about 30 minutes or until you begin to see the top of the cheesecake turn a very, very slight light-brown shade.
This means it is cooked all the way through, but remove from oven immediately and let cool at room temperature for an hour.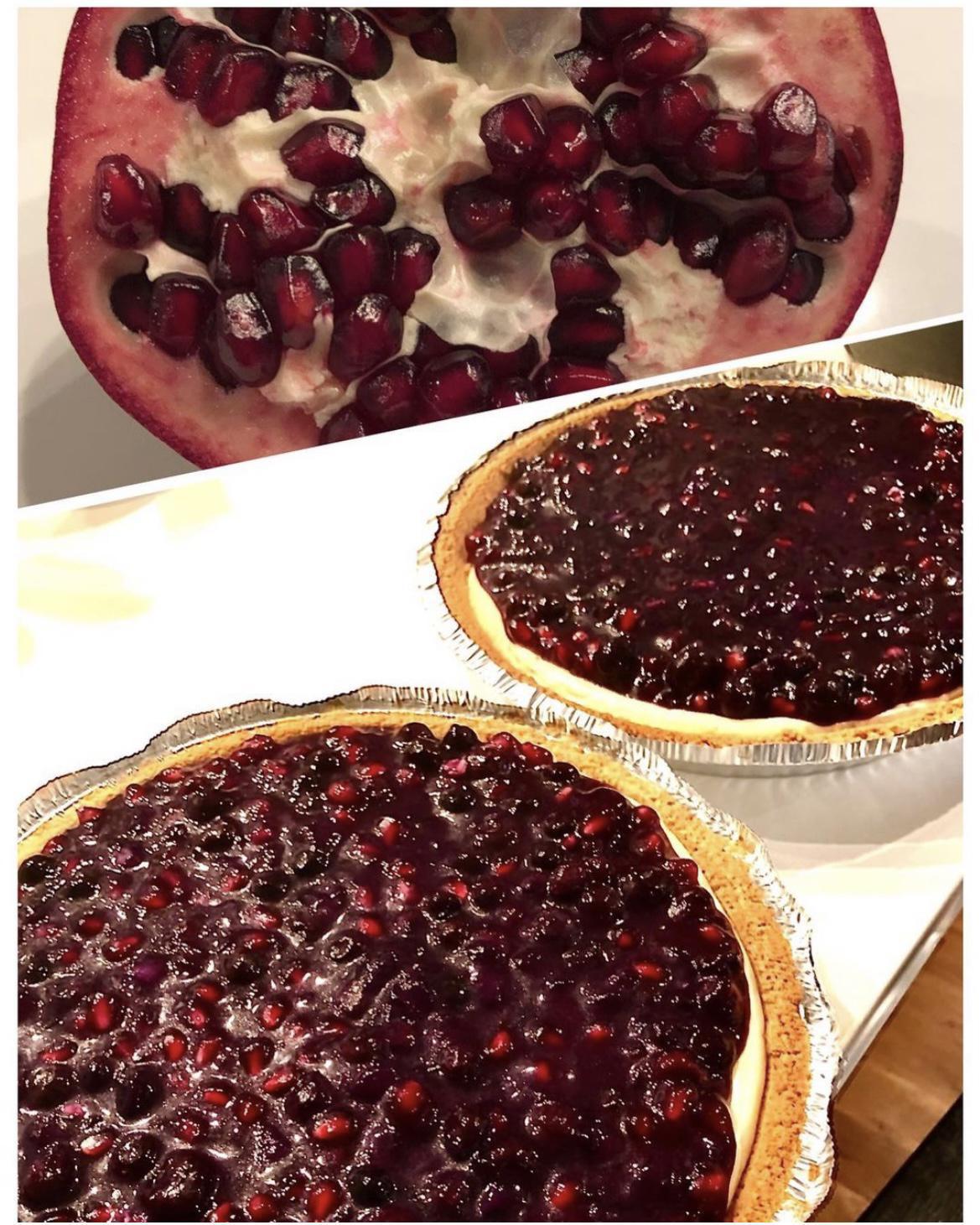 Instructions for pomegranate topping
While the cheesecake is baking, seed a pomegranate until you get about two cups (go
here
to see the easiest way to seed it).
After the cheesecake is out of the oven and has cooled for at least 30 min (very important to not make the compote until cheesecake is done, because the topping stiffens quickly and will be difficult to spread), place the pomegranate seeds, water, sugar, and preferred oil into a pot. Bring to a boil.
Place cornstarch into a separate bowl; spoon in 4 tbsp of the boiling water (a little more or a little less) until mixture is nice and smooth and loose, with no lumps. Then pour that mixture slowly into the pot with the pomegranates mixing vigorously to remove lumps.
When the mixture begins to thicken, turn off the heat and let it cool for 3-5 mins. Then pour that mixture in two equal parts over the cheesecakes, spreading it so that it covers the top.
Place cheesecakes in the refrigerator to cool for at least 3 hours (6 hours preferably) before serving.