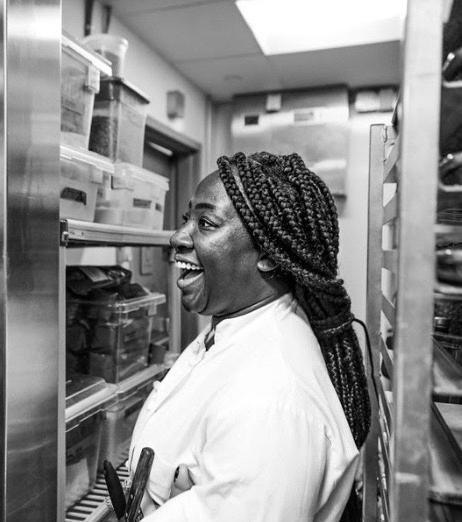 Nana is a first-generation Ghanaian chef who has worked her way up the culinary ladder in some of the finest NYC restaurants. Her catering company, Georgina's, is lovingly named after her late maternal grandmother.
Georgina's embodies Nana's native Ghanaian heritage and delicious recipes passed down from her grandmother to mother, mixed with the modern techniques Nana has learned on her culinary journey.
Once a month, Nana hosts a private, intimate dinner - "Love That I Knead" - where she brings strangers of different backgrounds together to connect over food and create lasting friendships.
Nana has stayed dedicated to her love for cooking during the COVID-18 pandemic, pivoting while remaining passionate about the connective power of food.
IG: Illnana
Creamy garlic shrimp with angel pasta and balsamic glaze
Ingredients:
medium onion sliced
Rosemary
3 garlic cloves sliced
Avocado oil
Unsalted butter
Shrimp deveined and peeled
Lemon pepper seasoning
Suya powder
1 large tomato diced
Scallions
Angel hair pasta
Balsamic glaze
1/2 cup Reserve pasta water
Parmesan cheese (shredded or grated)

Directions:
In a large bowl, season peeled and deveined shrimp with lemon pepper and suya powder. On medium-high heat, warm up a large sauté pan or wok and sauté 1 medium-sized onion sliced, garlic, and rosemary in avocado oil.
Add a little salt and butter to taste as onions become translucent. Once slightly brown, add shrimp - about 2 min on each side on medium heat and set aside. Boil water for angel hair pasta and cook until al dente. Reserve 1/2 cup of pasta water.
Run pasta under cool water and reserve to the side and mix with enough olive oil to lightly coat pasta to prevent from sticking. Next, medium dice 1 large tomato and slice the scallions for garnish.
Return back to large sauté pan or wok with all the juices and add cooked shrimp, onions, and pasta. On medium heat begin to add Parmesan cheese and pasta water. Adding and mixing a little at a time until creating a sauce-like consistency, about 3 Tsp cheese, and 1/2 cup water.
May add more or less depending on desired taste. Now add diced tomatoes and a drizzle of balsamic glaze and a sprinkle of scallions for garnish. Bon Appetit!